1UP Bike Rack Mini-Review
April 6, 2017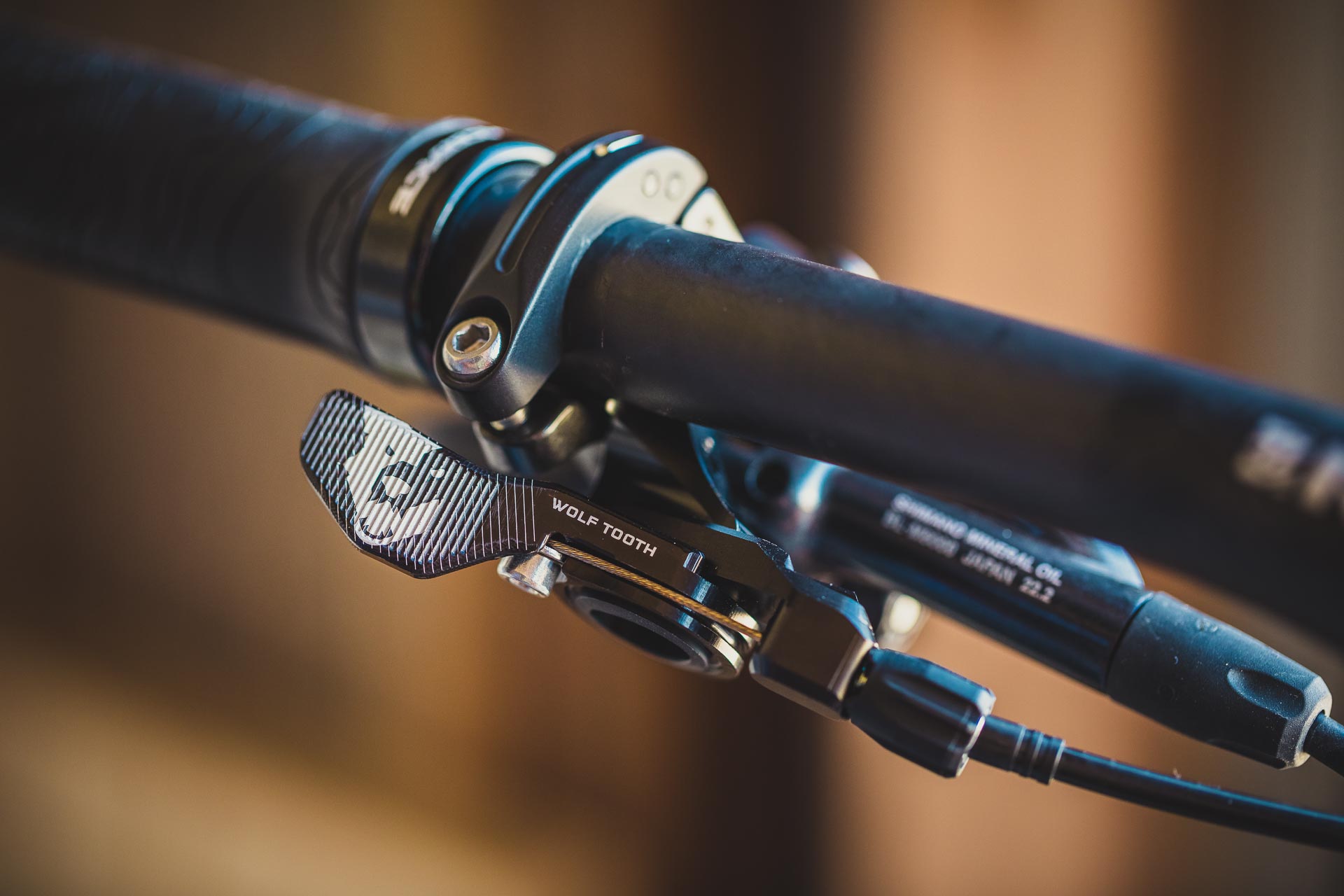 Wolftooth ReMote vs KS Southpaw
September 14, 2017
After enduring months of issues trying to get my handheld Garmin Oregon 750t to play nicely with Strava—namely the barometric elevation—I decided I'd wasted enough hours on it and sprung for the new Garmin Fenix 5X.
I f you're reading this article, you probably have a pretty good understanding of what the Fenix 5/5S/5X is all about. We'll cut right to the meat: it's GPS watch that offers a barometric altimeter, wrist heart rate monitor (HRM), built-in topo mapping, Strava Live Segment support, and most important to me—Strava's full blessing for barometric altimeter data.
In comparison to the much larger Garmin Oregon, the Fenix 5X has basically the same feature set. The Oregon 750t has some features irrelevant to the purpose of the Fenix 5 series, like goecaching, area calculation, turn-by-turn automotive navigation, a hunting calendar, and a camera. Conversely, the Fenix 5X has a heart rate monitor, accelerometer for motion tracking and step counting, and a wristwatch form factor designed to be worn 24/7. To be quite honest, the Oregon 700 series is a fantastic mountain biking, hiking, and outdoor activity device. It has a large screen, support for huge topo and satellite imagery maps, an accurate GPS antenna, barometric altimeter, and FIT file support compatible with the Garmin Connect Mobile app (with Bluetooth syncing, even). The major downside is that both Garmin and Strava have purposefully hamstrung the Oregon (and probably other handheld devices) by calling them "outdoor" devices rather than "fitness" devices. More about that here.
Even though my primary use for the Fenix 5X will be for tracking mountain bike rides, I just can't get on-board with the cycling-specific GPS computers (like the Edge, Wahoo, or Lezyne units). They seem too limited, and too focused on road cycling. I wanted a device that I can also use for hiking, camping, off-grid navigation, etc. and I don't want to juggle with multiple devices.
First impressions of the Fenix 5X are mixed, not because of my firsthand experience with the watch itself, but because of the Fenix's history. The prior model, the Fenix 3 and 3HR (there is no Fenix 4) were plagued by GPS and heartrate accuracy issues. Some users were experiencing GPS tracks that were a jagged mess with inaccurate tracks, inaccurate mileage totals, and significant interference from tree cover or buildings. Some less severe, mixed, but similar reports are starting to surface about the new Fenix 5 series. Lots of finger pointing has went around from it being the watch's metal casing causing poor GPS antenna reception, to the GPS chipset Garmin uses, to issues with the firmware. To it's credit, Garmin seems to be trying to smooth out these issues with continued firmware updates. The Fenix 5 series is too new to draw any meaningful conclusions from, but there are quite a few comparisons on the Garmin forum and DCRainmaker's review showing performance of the Fenix 5 versus the Fenix 3, 920XT, and Suunto devices. Here's a 50+ page forum post dedicated to the Fenix 5's GPS accuracy. The jury is still out. If I end up having GPS accuracy issues myself, I may try the Garmin 935, which is essentially a plastic-cased version of the Fenix 5 (not 5X, no mapping capability), but at a $200 lower price point. The 935 reportedly has better GPS accuracy due to that plastic casing not causing interference with the GPS signal. But with both watches still very much brand new, some time is needed to let the dust settle.
From my short initial use, I've been quite impressed with the Fenix 5X. I've never had a GPS or fitness watch, so the heart rate monitor, 24/7 activity tracking, and on-demand GPS are new to me. From a mountain biker perspective, it has everything you need and more--pre-loaded golf courses anyone? Ha.
The Fenix 5X comes pre-loaded with Garmin's "Topo U.S. 100k v6" map, as well as their "Garmin Cycle Map US 2016". The Fenix 5X has 16GB of internal memory, of which the Garmin MapInstall desktop application said about 7GB was free. I loaded about 2.5GB of my own maps, which was trouble-free and worked just like any other Garmin device I've used. I used the same OSM Mountain Topo maps and Open MTB Maps that I use on the Oregon 750t. Despite the tiny screen size, I found the maps to be quite usable and readable; especially for quick trailside route checks. Panning and zooming on the maps works quite well, but it can be tedious to scroll around a bunch. You can setup the Fenix to load different maps for different activities. So I have the OSM Mountain Topo selected on the "Mountain Bike" activity and the Garmin Cycle Map selected for road-oriented "Bike" activity.
I took the Oregon 750t and the Fenix 5X out for a spin yesterday at the Bobcat Ridge Natural Area trails near Masonville, Colorado. The trail system there is fairly short, with my ride only ending up at about 9 miles and 1,600 feet of elevation gain. There is some light tree cover climbing up the Power Line Trail, but this thins out to barren rock once on the Ginny Trail summit. In comparing the two devices in the middle of the ride, the distances were both the same (3.10 miles). The elevations (both current and accumulated) were within 20-40 feet of each other. The difference in elevation is likely due to altimeter calibration differences. I have both devices set to auto-calibrate using GPS, so absolute elevation ends up changing slightly over time as the devices tries to filter out changing weather (which affects air pressure, which affects the barometer readings, which affects calculated altitude). Here in Colorado, the weather can change rapidly, and I personally wouldn't use either device with the altimeter's auto-calibration turned off.
I also had a chance to try out Strava Live Segments, which is a treat if you're a Strava person. To get Live Segments to work, you have to make sure your Garmin Connect and Strava accounts are first linked and syncing properly. Then using the Garmin Connect Mobile app, go to Settings>3rd Party Apps>Strava. On that screen, you'll see a slider switch to turn on Strava Live Segments. Doing this turns off Garmin segments (which suck anyway, there are very few). You can also turn on Strava Beacon for Garmin here (meaning you can use Beacon without having to be recording an activity within the Strava app itself, pretty slick). After turning on "Use Strava Live Segments" in GC Mobile, login to your Strava account and start starring segments (there are star icons next to each segment) that you want to track on your watch. I wouldn't recommend starring EVERY segment, especially ones that overlap. The next time GC Mobile syncs with the Fenix, those segments are loaded.
When you're approaching a segment you have marked, the Fenix will beep/vibrate and give you notification that you're approaching the segment (photo below). Once on the segment, it gives you a new display showing your PR and your current time difference (plus or minus) from that PR. I would have liked to show you a photo of that screen, but I was too busy hauling ass and knocking almost 4 minutes off that downhill segment (quick shoutout to the Guerrilla Gravity Trail Pistol for that feat!). Unfortunately, two earlier segments that I had previously starred for this ride did not show up on the Fenix. Almost all of the ride was out of cell service (except the peak, where the last Live Segment worked). I'm not sure if the Live Segments feature requires a cellular connection on your paired phone (thus requiring you to have your phone on you as well). Or perhaps GC just didn't sync properly with Strava earlier until I hit that spot of cell service. If you know, leave me a comment below.
After the ride, I checked out the Fenix's data analysis of elevation, heart rate, distance, etc. and compared it to what the Oregon was saying. The Oregon recorded 9.13 miles and 1,657' elevation gain, and the Fenix recorded 9.09 miles and 1,607 feet. You'll also note that while the ascent and descent on the Oregon are within 26' of each other, the Fenix was off by double that at 52'. Perhaps an initial calibration error, or me not letting the Fenix "soak" enough to get calibrated before starting my activity recording. As a warning, I do want to state that I realized afterward that I had the Oregon in "auto" record mode set to Most Frequent, not 1 second recording like the Fenix. This became apparent when viewing the actual GPS tracks later.
Here are some screenshots showing the actual recorded track of from the Fenix 5X and the Oregon 750t. You can easily see where the Oregon cut way more corners than I though it had been while in auto recording mode. It's not clear to me why on the device screens after the ride, the Oregon was showing a longer mileage (9.13 vs 9.09). When viewing the actual data points, MyGPSFiles calculates a distance of 9.0 miles and 9.3 miles for the Oregon and Fenix, respectively. This latter calculation appears more accurate based on what is shown in the data files, where you can see the Oregon cut corners and burn straight through windy sections. Based on previous research, I suspect what happens is that the devices calculate their distance and elevations totals based on raw sensor data, not on the points recorded in the FIT file. Which is why tools like MyGPSFiles and Strava often come up with slightly different totals, as they are only using the recorded data points in the file
The Fenix track appears really accurate and on-trail for pretty much the entire ride. I didn't notice any inaccuracies. You can see when I stopped at the top of Power Line Trail to take some photos, and the Fenix track gets a little squirrelly, but it's all within a few feet of my where I was moving around. I did not have Auto Pause turned on (that has caused issues for me in the past on the Oregon, where hike-a-bike and slow climbing sections are mistaken as pauses and I ended up with gaps in the data). The heart rate data looks good to me (without anything to verify accuracy), and had no drop outs.
I'm going to continue testing the Fenix 5X against the presumably more accurate Oregon (with it properly recording 1sec intervals). I will update this post with additional findings and/or screenshots from more rides. Stay tuned!